Why This New Victoria's Secret Range Is Selling Like No Other
And why we're snapping it up ourselves
---
---
Lingerie line Victoria's Secret has released a new collection and for once we're excited about that.
Why? Because this time round the collection is made up of pieces women might actually like to wear - you know, for themselves, as opposed to for the men in their lives.
Yes, VS has released a collection that is nothing like it's predecessors because instead of traditionally 'sexy' shapes and shades, this range has sweet, floral details that appeal to the women who actually wear them. This makes our hearts HAPPY. Very, very happy in fact.
But back to the collection ... To make the sweetness happen Victoria's Secret teamed up with London-based but world-famous fashion designer Mary Katrantzou.
Katrantzou, dubbed The Queen of Prints, has managed to perfectly blend her feminine and innovative design aesthetic with the sexy and glamorous style that Victoria's Secret is known for. And the result is really quite something.

Jasmine Tookes. Image: Instragram/@Victoria's Secret. 
"Everything that Victoria's Secret creates is about a woman feeling confident and empowered - and also having fun with what she is wearing, This collaboration is going to be bold, fun and playful," says Katrantzou.
And she nailed it. To be honest, this is the first VS collection that has really captured our hearts and there's a number of items we want - badly. Scroll down and you'll soon see why.
Knickers and pants set in sunshine yellow and floral.
The bodysuit of your dreams in lipstick pink and breezy blue.
Want to impress at the gym? This two-piece will do the trick.
Pantsuit in action and looking STUNNING.
Pantsuit without model - still utterly perfect for both day and night.
The collaboration marks the second time that Victoria's Secret has partnered with a luxury brand to create an exclusive range.

Katrantzou has also designed a section for the 2018 VICTORIA'S SECRET FASHION SHOW.
The Victoria's Secret x Mary Katrantzou capsule collection will feature looks from the runway and will be carried in select Victoria's Secret stores and also via the label's site Victoriassecret.com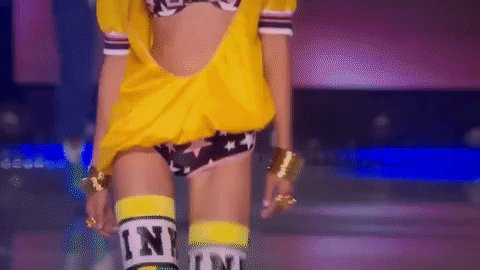 You're welcome ... Credit: Giphy.com.
PS: We have more good news!
Victoria's Secret flagship Australian store is launching in Chadstone Victoria late November, 2018. Stay tuned for more details, discounts and celebrity appearances.
---