Just 19 Pictures Of Zendaya Being Beautiful
Plus, the real reason we love her like we do.
---
---
She's just 22 years old, but singer and actress Zendaya Coleman already exudes a certain indefinable something.
Woman is clearly wise beyond her years (she's deeply political and regularly marches for Black Lives Matters, fights for the rights of the LGBT community and is a staunch feminist) but she's also got a particular magic about her. Call it star power perhaps, magnetism maybe ... whatever it is, Zendaya has it in spades.
Despite being the least known cast member of the film The Greatest Showman, Zendaya stole every scene she appeared in leaving stars Zac Effron, Hugh Jackman, Michelle Williams and Rebecca Ferguson in her wake. It was much the same when she shimmied her way through Bruno Mars' film clip for his smash hit Versace on the Floor.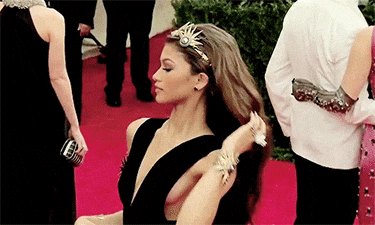 Met Gala hair and diamonds. No words. Image: Giphy.com
The truth is if Zendaya is in the room nobody else exists. The light falls entirely on her. Sure, some of that is due to her stunning looks, but there's much more to her beauty than appealing features. Zendaya is brave. She says what she thinks - stands up for those she feels need support. She's vocal about her beliefs and she follows through with action.
We're calling it. This beautiful young woman is most definitely one to watch.
Scroll down and you'll see exactly what we mean.
Those eyes, that mouth, those curls ... Stepping out for US Glamour magazine.
Eggshell blue cashmere, floral details and sweet 60's hair.
Golden Globes style and class and whoah ... everything. Credit: Giphy.com
Killing it in royal Ralph and Russo for the QC Awards.
Big curls and sequins forever. The Variety Awards.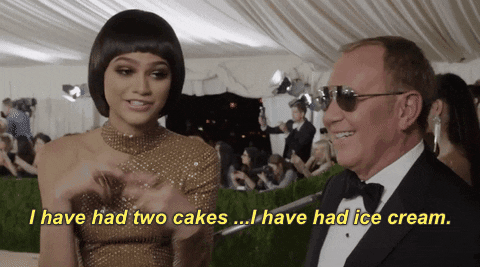 Revealing her diet secrets on the red carpet ... and why not? Credit: Giphy.com
Another seriously elegant Ralph and Russo creation styled back with chic slick locks.
Spiral curls and sex appeal in a Boo Hoo number.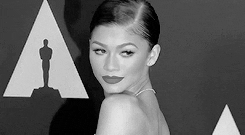 Nailing the over the shoulder pose. Credit: Giphy.com
'Does your hair just ever ...'. Zendaya gets real on Instagram.
Celebrating International Women's Day and wearing her heart on her sleeve. Well, chest.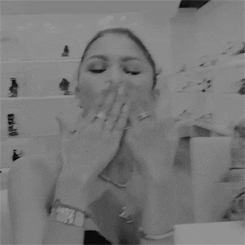 Kisses! Zendaya and her love of shoes. And well, her. Credit: Giphy.com
Brow power, sleek locks and one bold red lip.
Letting the frizz fly free. Elegant and easy on the red (okay blue) carpet.
Hair. Always that hair. Credit: Giphy.
All natural, all stunning. Wild curls in the snow on Manhattan Bridge, NY.
Retro beauty for US Marie Claire.
All images: Instagram/@Zendaya
---